Meet Richard Rhodes, a 'Guess the Mileage' winner
19th September, 2019
In August, the Erewash Partnership held its annual Heritage & Classic Vehicle Show in Ilkeston and the day was a huge success - almost a month later, we're still reliving the stunning sights of the RAF Avro Lancaster flypast and the display of classic cars!
During the day, Steve Beeley and Jo Wass held a 'Guess the Mileage' competition with a beautiful 1948 Riley RMA that belongs to our clients, Andrew and Jane. With so many classic vehicle fans in attendance, we were inundated with guesses, and Richard Rhodes successfully placed the closest guess.
Last week, we were delighted to meet with Richard at his home to present him with his bottle of champagne, and Richard very kindly introduced us to his vintage Jowett!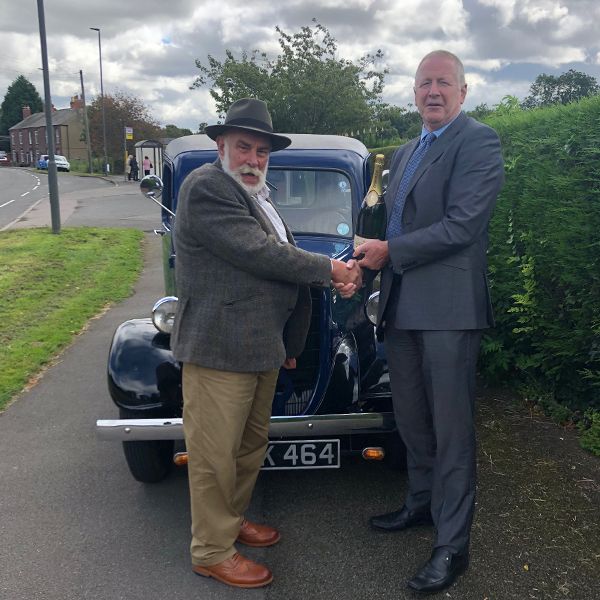 During our visit, Richard explained that his Jowett was built in 1948 and he originally purchased the car 50 years ago and it was significantly cheaper than buying a modern car in the 1960s.
Richard used his Jowett as his family car for decades as family commitments and holidays came before any thoughts of buying a modern car. Richard's daughter fondly named the Jowett 'Betsy' - Richard liked this so much that he had a small brass plaque made to display the Jowett's moniker, which is still attached to the car to this day!
An avid classic vehicle fan, Richard has been an active member of the Jowett Car Club since 1973 and he attends their annual meeting wherever it may be, driving to the event in Betsy every year.
Next year's gathering will be taking place in Chepstow, which is quite some distance to cover in a vintage vehicle! Richard shared with us that he thoroughly enjoys the Erewash Partnership's annual Heritage & Classic Vehicle Show and makes sure he can attend every year to enjoy the friendly atmosphere and the eclectic range of vehicles on display.
We would like to once again thank Richard for taking the time to share his fascinating story with us and for inviting us to visit him for his champagne presentation - thank you, Richard!
With our specialist vehicles knowledge and expertise, we can help you to protect your highly valued possessions. To find out more about our specialist vehicle insurance, please click here