The Heritage & Classic Vehicle Show was a huge success!
21st August, 2019
For the last 7 years, the Erewash Partnership has held its annual Ilkeston Heritage & Classic Vehicle show. This event is much-loved amongst the local community and further afield, with many visitors coming from far and wide! For one day only, Ilkeston is taken over by a magnificent display of classic cars, motorbikes, steam engines and much, much more.
Despite a rainy start, the day was very well attended and hugely successful - in fact, the weather cleared up so much that the RAF Avro Lancaster flypast was able to go ahead, and what a wonderful sight that was!
Steve Beeley and Jo Wass were delighted to attend this year's event; as proud sponsors of the Erewash Partnership, we were on-hand to offer advice and guidance on the most appropriate insurance to protect these valuable assets. Throughout the day, we also held a 'Guess the Mileage' competition, with prizes of gin and champagne up for grabs for the closest guesses.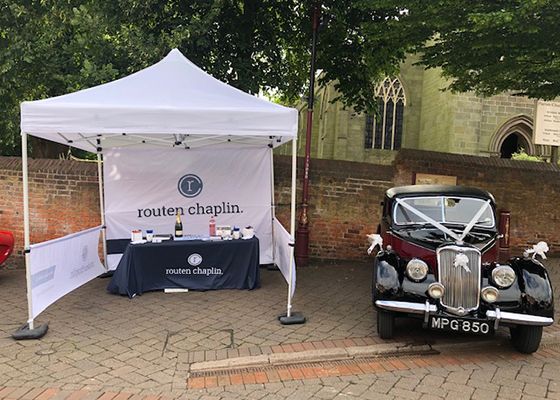 The beautiful 1948 Riley RMA belongs to our clients Andrew and Jane, who very kindly came along for the day to support us. Their classic vehicle proved to be much admired and was a real talking point amongst the crowd - thank you again, Andrew and Jane!
We will be presenting the winners of our 'Guess the Mileage' competition with their prizes in September - keep your eyes peeled to find out more about the winning guesses.
With our specialist vehicles knowledge and expertise, we are well-placed to help you to protect your most valuable possessions. To find out more about our specialist vehicle insurance, please click here