Routen Chaplin are #happybrokers
19th June, 2018
Routen Chaplin have won a social media competition that was hosted by Legal & General, a well-known asset manager and insurance provider.
The competition was created to support their new campaign of 'happy customers, happy brokers', which they presented at BIBA 2018 on the 16th & 17th May 2018.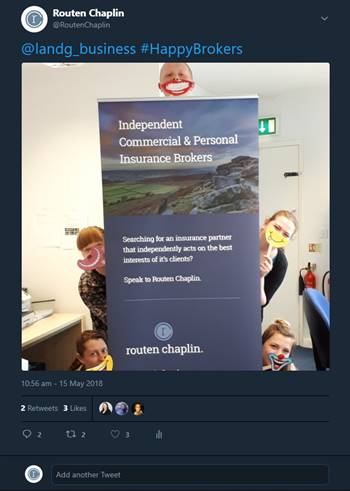 Legal & General sent brokers smile cards and asked them to create a fun staff photo with the hashtag #happybrokers for a chance of winning. This competition was ran at the BIBA 2018 event.
Participating brokers included Instructorcover Plus, Prestige Home, and Priory Insurance, but Routen Chaplin were awarded the winners!
Legal & General came in on 19th June to present us a prize of £300 worth of restaurant vouchers.
We are looking forward to using the vouchers for a team meal!